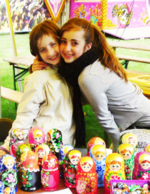 Hello, I'm Polina Verstappen and sell in my kiosk Matrioshkas (Matroesjkas) from Russia and organize active camping holidays in Russia for support two projects for orphans near Moscow . In my original wooden toy dolls you can find the ideal gift or a decorative wooden toy for children. We can also send the dolls directly to your friends as congratulations for example a birth.
The ecotourism at our camping in the Kaluga province, 70km from Moscow, is an ideal and cheap starting point for exploring the cosmopolitan city of Moscow with all its contrasts and the vast area in the province is a beautiful  experience. We also organize camps in the village for orphans of the volunteers. Maybe you would like to do this  as an alternative holiday in Russia.

The name Matrioshka, or Matryoshka Matryoshka comes from Russia. It is said that the name originally comes from Japan, and that it was brought to Russia at the end of the 19th century by the wife of the businessman Savva Mamontov I.. According to the Japanese stories, however, was a Russian monk who brought her to Japan. But any story which there may be, the idea of the Russian Matryoshka's craftsmen does talking around the world

A professional artist named Sergei Malyutin made the first sketches in about 1890.When he showed the first puppet said to his friends , they said: "Oh what she looks like  our Matrjona, the neighbor". This girl was very frequently called Matrjoschka or Matryoshka. From that moment they are called Matryoshka dolls So now too, or Matrioshka.

At the end of the 19th century, the name Matrjona (and derivative Matreshka, Matryoshka, Matrjoschka, Matryoshka is one of the most popular names in Russia. The name comes from the Latin word 'Matrona', which means or respected lady "or" mother of the family. "therefore this name fits very well with the idea of dolls stacked together in one big" mom-pop ". Placing the figure in one another is known as a symbol of fertility and eternity and in a sense is symbolic of maternal orphans as the Children of Mary Organization and Orphans Village Orion (Kitezsh) receive their  care and education.

Many people did try to make Matryoshka's  and had a lot of material and time wasted, and it's no wonder, since it was a secret how to do this until recently . The work to make them require talent and skill, first it is important to choose the right wood species available. Linde is ideal for the dolls, the softness of the wood, but there is slightly less often used also birch or Els.

The lime tree is a deciduous tree of the oldest in the world. There are examples known of more than a thousand years old. (Germany). In the Netherlands there is a way of, in Belgium for 500 years and 700 years. Symbol for security and growth, this tree through the ages, a magical attraction shows. The indestructible tree has beautiful fragrant flowers still smell them if there is no more nectar. This explains why there may be dead bumblebees are under a linden tree. In search of nectar, they use more energy than they can find food because there is no more nectar in the flowers is. Exhausted, they fall over.

The lime tree was among the Celts and the Germans considered sacred tree. The goddess Freya would be in residence. The spirit of the lime was as protector of homes, churches and resources. Later, the lime tree as "good tree seen. Marriages were concluded under the linden, the thumbs of lovers were then pressed into the bark. A lindetak would also help as a remedy for toothaches in children and it was in amulet form, used as protection against witches and ghosts.

The lime tree is often sung: eg Schubert Der Lindenbaum Winterreise on the text by Wilhelm Müller and Gustav Mahler in the Lieder eines fahrenden Gesellen in zwei blauen Augen That song. The linden often refers to a (past) love. More recently (in 2003/2004) sang the Moldovan group O-Zone guys the lime in the summer hit 'Dragostea din tei ":" Love under the linden tree ".

Lime are widely planted as a memorial tree. Thus, the Dutch State Forest municipalities' king lime "presented on the occasion of the birth of Princess Amalia. In 260 of the 480 municipalities of the Netherlands is that the National Christmas Tree planted.

The trees are harvested in early spring, and stripped of their bark, although there is enough left for the wood to crack when it dries. The logs are stacked and a number of years in air-dried. Editing the wood (cutting) is exactly the right time to be done when the wood is not too dry or too wet. Only an expert can determine that time. Each piece of timber to undergo at least 15 different operations.

The smallest Matryoshka, which can not be taken apart, are usually first made. Meister with a lot of experience measuring anything, but relies entirely on his skill. Then he proceeds to make a slightly larger Matryoshka.

The Matryoshka's number to another can vary from 2-60. The largest Matryoshka can be as large as its creator. If every Matryoshka ready, get it dipped in a glue-like paste, which fills all irregularities. The final drying is now used, so below the wood can be sanded, and then by the artist continue to be killed. Now get the Matryoshka its final look and style.
People change as they age, the same can be said about me.

The art of making Matryoshka's began gradually to expand the Moscow region to other towns and villages. And each site developed its own style and type of decoration.

An artist named Sikorskij was one of the first artists whose Matryoshka's very popular among the general public were a complete set of hand now costs around 3000 euros.

Dutch people say they often or Babuschka Baboesjka, but that is the Russian word for "grandmother". Sometimes they are Matryoshka, Matruschka (Matrushka) Matrjuschka (Matryushka) Matrena, Matreschka (Matreshka) or simply the "Russian doll" called. The original Russian name Matrjoschka, symbol for growth, sustainability, love and security.



A matryoshka doll, also known as a Russian nesting doll or a 'very nice' doll, is a set of dolls of decreasing sizes placed one inside the other. The word "matryoshka" (матрёшка) is derived from the Russian female first name "Matryona" (Матрёна). The word "babushka" (бабушка) is the Russian word for grandmother.


Church-themed matryoshka

A set of matryoshkas consists of a wooden figure which separates, top from bottom, to reveal a smaller figure of the same sort inside, which has, in turn, another figure inside of it, and so on. The number of nested figures is traditionally at least five, but can be much more, up to several dozen with sufficiently fine craftsmanship. Modern dolls often yield an odd number of figures but this is not an absolute rule; the original Zvyozdochkin set, for instance, had an even number. The form is approximately cylindrical, with a rounded top for the head, tapering toward the bottom, with little or no protruding features; the dolls have no hands (except those that are painted). Traditionally the outer layer is a woman, dressed in a sarafan. The figures inside may be of either gender; the smallest, innermost doll is typically a baby lathed from a single small piece of wood (and hence non-opening). The artistry is in the painting of each doll, which can be extremely elaborate.

Matryoshka dolls are often designed to follow a particular theme, for instance peasant girls in traditional dress, but the theme can be anything, from fairy tale characters to Soviet leaders.
History
The original matryoshka by Zvyozdochkin and Malyutin

The first Russian nested doll set was carved in 1890 by Vasily Zvyozdochkin from a design by Sergey Malyutin, who was a folk crafts painter in the Abramtsevo estate of the Russian industrialist and patron of arts Savva Mamontov. The doll set was painted by Maliutin himself. Maliutin's design was inspired by a set of Japanese wooden dolls representing Shichi-fuku-jin, the Seven Gods of Fortune. Maluitin's doll set consisted of eight dolls -- the outermost was a girl holding a rooster, six inner dolls were girls, the fifth doll was a boy, and the innermost was a baby.

In 1900, Savva Mamontov's wife presented the dolls at the World Exhibition in Paris, and the toy earned a bronze medal. Soon after, matryoshki dolls were being made in several places in Russia.
Themes
Several Russian politicians depicted in matryoshka form

During Perestroika, the leaders of the Soviet Union became a common theme depicted on matryoshkas. Starting with the largest, Mikhail Gorbachev, then Leonid Brezhnev (Yuri Andropov and Konstantin Chernenko almost never appear due to the short length of their respective terms), then Nikita Khrushchev, Josef Stalin and finally the smallest, Vladimir Lenin. Newer versions start with Dmitry Medvedev and then follow with Vladimir Putin, Boris Yeltsin, Mikhail Gorbachev, Joseph Stalin and then Vladimir Lenin.

Modern artists create many new styles of nesting dolls. Common themes include animal collections, portraits and caricatures of famous politicians, musicians, "robots" and popular movie stars. Matryoshka dolls that feature communist leaders of Russia became very popular among Russian people in the early 1990s, after the collapse of the Soviet Union. Today, some Russian artists specialize in painting themed matryoshka dolls that feature specific categories of subjects, people or nature.

Areas with notable matryoshka styles include Sergiyev Posad, Semionovo (now the town of Semyonov), Polkholvsky Maidan, and Kirov.


History of Russian nesting dolls
Russian nesting doll (synonyms - nested doll, stacking doll) or matryoshka as it is sounded in Russian - probably, the most popular Russian national souvenir. The wide fame was won by Russian matryoshka (nesting doll) far abroad. At all large exhibitions, fairs, the festivals held in different counties of the world, amusing cheerful nesting dolls were most fascinating exhibits. Also it seems, that matroyshka nesting doll has come to us from a gray-haired antiquity, from the world of legends and fairy tales. Actually this wooden doll is about hundred years.
Although nesting doll (matryoshka) is famous all over the world it is hard to find books about this phenomena. Have a look at sites dedicated to Russian souvenirs and you will see that all stories about nesting dolls are quite contradictory. The reason is that authors of sites did not have good materials on this subject. I suppose that this page will add some understanding of nesting doll roots and history.
---
1. The very beginning of Russian matryoshka
The first Russian nesting doll (matryoshka) was born in 1890 in the workshop "Children's Education" situated in Abramtsevo estate new Moscow. The owner of Abramtsevo was Sava Mamontov - industrialist and a patron of the arts.
The first Russian nesting doll!
The end of the 19 century in Russia was a time of great economic and cultural development. Mamontov was one of the first who patronized artist who were possessed by the idea of the creation of a new Russian style. Many famous Russian artists worked along with folk craftsmen in workshops Mamontov.
7-piece matryoshka "Fukuruma", Japan. Late 1890s
(to see the larger image click on the picture)
Once at a tradition Saturday meeting somebody brought a funny Japanese figurine of a good-nature bold head old man Fukuruma. The doll consisted of some other figurines nestled one another. It had 7 figurines. There was a legend that the first doll of such type on Island Honshu where Fukuruma was brought from was made by unknown Russian monk.
Really, this type of nesting toys was well known before - Russian crafters turned wooden Easter eggs, apples.
---
2. Why it is called "Matryoshka"
Russian wooden dolls within smaller dolls were called matryoshka. In old Russian among peasants the name Matryona or Matriosha was a very popular female name. Scholars says this name has a Latin root "mater" and means "Mother". This name was associated with the image of of a mother of a big peasant family who was very healthy and had a portly figure.
Subsequently, it became a symbolic name and was used specially to image brightly painted wooden figurines made in a such way that they could taken apart to reveal smaller dolls fitting inside one another.
---
3. Sergiev Posad style of Russian nesting dolls
Sergiev Posad was a place where the first nesting doll was made by artist Sergei Maliutin and a turner Vassiliy Zviozdochkin.
This old Russian town is located 73 km (about 45 miles) from Moscow. It has grown up around famous Trinity-St.Sergius Monastery. In 1340 the monk Sergius founded a small temple lost in the midst of the wild thick forests. In time it was developed into the biggest monastery of Russia.
Arts and crafts were flourished in the towns and villages who surrounded the monastery. Wooden toys, which were known as "Trinity" toys, became particularly popular. According to the legend the first "Trinity" wooden toy was made by the Prior of the Monastery, Sergius Radonezhsky.
Sergiev Posad was a colorful, truly Russian town. The Monastery lent a unique peculiarity to it. The huge marketplace in front of the Monastery was almost always full of different people: merchants, monks, pilgrims and craftsmen were milling around.
"An old man", 8-p. matryoshka, beginning of 20 century

Professional artist made the first painted matryoshka of Sergiev Posad just for fun. That is why these dolls are so expressive and won admiration of adults and children. In the initial period of matryoshka development particularly attention was paid to faces of matryoshka, clothes were not detailed painted. Such dolls depicted different character and types: peasants, merchants, and noblemen.
The faces of the early matryoshkas of Sergiev Posad were oval and strict. The heads of many matryoshkas were greatly enlarged that's why the face dominated the body. These dolls look primitive because of this
"Getman", 8-p. doll, beginning of 1900.
disproportion but at the same time they are very expressive. The first politic matryoshka, the prototype of famous "Gorbi doll", was born in that time. Matryoshkas like "German" (German was a political leader Governor of old time Ukraine, which was a part of Russian Empire) gave a soil to artist to design modern politic dolls.
Sometimes matryoshka portrayed the whole family with numerous children and members of households. Some matryoshkas were devoted to historical themes. The described boyars (old Russia noblemen), legendary heroes bogatirs (warriors), some dolls were devoted to book character.
Matryoshka "The tale about turnip", 8-p., beginning of 20 century.
The matryoshka of Sergiev Posad consisted of 2 to 24 pieces. The most popular dolls consisted of 3, 8 and 12 pieces. In 1913 a 48-pieces matryoshka made by N. Bulichev was displayed at the Exhibition of Toys in St. Petersburg.
Development of matryoshka greatly depended on turners' skill. Highly skilled masters turned matryoshkas with very thin sides, which was considered to be a special art of matryoshka turning. Apparently, painting was secondary. Professional artists who painted the first turned dolls did not treat it seriously enough. It was sort of entertainment. There are some matryoshkas - caricatures in the Museum Estate Polenovo. From other hand there were many independent workshops of Sergiev Posad
Where skilled artisans worked and they crated their own style of Russian matryoshka. Folk art tradition was very important in the development of the present Sergiev Posad style. Due to widest layer of folk culture, matryoshka continued to exist even after Russian style, developed by Russian professional artists was forgotten. Icon painters of Sergiev Posad contributed a lot to matryoshka pictorial style. Anthropomorphism, in other words, resemblance to a human being of the Russia "take apart" dolls turned out to be the continuation of ancient Russian art tradition. An artist focused mainly on the figure of a person, his or her face.
This tradition of Russian ancient art came from Byzantine Empire, which had borrowed it from ancient Greek culture. The connection of certain early type of the matryoshkas of Sergiev Posad with the tradition of the local icon painting school is confirmed both stylistically and virtually. Along with the icons, matryoshkas were painted as well in the icon painting school of Sergiev Posad.
Porked (burned) nesting doll, 5-p., 1990-s.
Initially matryoshka types were rather different: they portrayed both male and female characters. There are some ethnographic matryoshkas: Samoyed (Eskimo), Gypsy Woman, American Man, Turk, Chinese, Lithuanians, and Tartar Family, Ukrainian and so on. Gradually female character became the main type of matryoshkas. The tradition of making special matryoshka proportion (1:2, that is ration between a matryoshka's width and height) were worked out.
Larisa Soloviova, an author of a great book about Russian matryoshkas divided development of this type of dolls into three periods:
1) 1890 -1930-s
2) 1930-s - beginning 1990s
3) Beginning of 1990-s till this time.
The first period contributed us the first matryoshka and created a wide verity of different types of dolls.
In 1918 the unique Museum of Russian and Foreign Toys was opened in Sergiev Posad. The first Russian matryoshka by S. Maliutin is a part of its exhibition. Soon afterwards the Toys Research Institute was organized there as well. The remarkable samples of toys were created in this institute including 42 pieces matryoshka. 60- pieces nesting doll is consider being the biggest one among the matryoshkas of Sergiev Posad. It was made in 1967.
The matryoshka of Sergiev Posad has its own peculiarities: its top part flows smoothly into thicker lower part: it is painted with gouache and has a varnish surface. In spite of, or perhaps because of the popularity of the matryoshkas of Sergiev Posad, matryoshka-making center started to spring up in Russia.
---
4. Semionovo matryoshka
Introduction
Semionovo is a large old center of wooden handicrafts. Huge thick forests, soil that is not good for agriculture, big outlet provided development of local people crafts. Of course, many changes occurred during long history of crafts in Semionovo but even now about 200 items are produced in factories and privately in this region, 33 countries import goods from this small town.
Beginning
Semionovo is famous for its wooden painted tableware, wooden toys and, of course, matryoshkas. The first mention about this settlement goes as far as 1644. There is a legend that Semionovo was founded by merchant Semion and a run-a-way monk from Solovky monastery. In 1779 in time of Catherine the Second 3000 inhabitants lived and worked in this place. As the town was surrounded by forests people used to make goods of wood for themselves and for sale. Some crafters made for their children and just for fun wooden toys, with time it became a profitable business.
The first matryoshka in Semionovo was made well known by his wooden utensils, rattles, balls and apples Arsenty Mayorov.
Arsenty Mayorov
In 1924 he brought from the fair in Nizhny Novgorod unpainted nesting doll. His elder daughter Luba painted it using ordinary goose feather and aniline dyes, which were used for painting of toys. Almost 20 years matryoshka made by Mayorov were the best in the area of Nizhny Novgorod. In 1931 an artel which made souvenirs including matryoshkas was established in Semionovo.
Blossom of Semionovo toy
Gradually a distinct matryoshka type of Semionovo was developed. It was more decorative and symbolic than the matryoshka from Sergiev Posad. Semionovo's tradition goes back to the traditions of ancient Russia.
The painters of Semionovo used aniline dyes; they left quite a lot of unpainted
space and varnished dolls. First of all, light touches of the brush mark the outlines of the face, eyes, the lines of the lips and apply color to the cheeks. Then a skirt, an apron, a scarf on the matryoshka's head and hands are drawn.
An apron is considered to be the main thing in painting of Semionovo. A bright bouquet of flowers is painted on it. It is possible to recognize the technique of old Russian masters. The early matryoshkas of Semionovo were more in the spirit of old Russian painting traditions, the lines were more graphic and lighter. It is easy to recognize a typical Semionovo shape of wooden form of matryoshka. It is slender and has a relatively thin top, which widens sharply into a thick bottom.
The matryoshka of Semionovo are famous for containing many pieces.

The biggest matryoshka contained 72 pieces; it was 1 m high and had a diameter. This unique doll was made in 1970 and was dedicated to birthday of Soviet communist leader Lenin.
The bigest matryoshka
It cost 3000 rubles (it worth saying that a popular Soviet car cost in that time 5,000 rubles. The doll was sent to exhibition in Japan.
In the 80-s artists from Semionovo developed new types of matryoshkas Artist Serov designed new matryoshka "The Father Frost and Snegurotchka". This matryoshka was so designed that children could learn to count: inside a big "mother" 10 small was hidden.
In this time the Chief Artist Sorokin has created a couple of dolls-case "Russian Lad" and "Russian Beauty".
They were in cosmic flight
This couple was taken in cosmic flight in 29 June 1982 by Russian astronauts and was gifted to international crew.
Present time
Now Semionovo matryoshka has not the best time. The complex economic situation in Russia mirrors at these crafts too: it's harder to buy raw materials, fuel and electricity became more expensive. In these condition it hard to create something new, people instead of wage in money get just ready goods: matryoshkas, wooden spoons, wooden tableware. It press people to leave a factory and to work separately at home. Maybe it is hard in the beginning but in such conditions can be born new ideas, types, goods - there are more to room for creative activity.
We sincerely hope that Semionovo matryoshka will blossom soon and will expose us new unusual things.
---
5. Polkholvsky Maidan nesting dolls
Polkhovsky Maidan located to the south-west of Nizhny Novgorod, is a motherland of another style of matryoshka. The river Polkhovka in old times was wide and big, it was surrounded by forests- that is why people choose this place to settle a new village. Now Polkhovka became a small stream meanwhile the village turned into a center of crafts.
The first matryoshka was made in Polkhovsky Maidan in 1930-s, as other goods in that time the doll was made by poker work.
Typical Maidan woodwork.
Wooden workmanship was an old tradition in Maidan. Any toys were made on turning lather: samovars, birds, money-box, salt-cellars and apples. . The craftsmen of Polkhovsky Maidan like the craftsmen of Semionovo use aniline dyes. The matryoshkas were pasted over, brightly painted before being coated with varnish. The colors of the matryoshkas of Polkhovsky Maidan are brighter and more expressive than the colors of the matryoshkas of Semionovo, their ornaments are bigger as well.
Green, blue, yellow, violet and crimson colors are used to contrast each other, to make an expressive and bright orna-ment. Richness of color is achieved by superim-posing one layer of dye on another.
Pokhovsky Maidan matryoshka, 5 p. set.
The matryoshkas of Polkhovsky Maidan are manufactured in the peasant primitive style which resembles children's drawings. It is a typical village beauty with knitted brows and a face framed in black locks. The ringlets of hair are a genuine element of local women's headdress.
Older women covered their hair with kokoshniks, young girls used ribbons. Black drake's feathers were stuck in their headdresses. The painters of Polkhovsky Maidan as the painters of Semionovo paid their special attention to floral ornament of matryoshkas' aprons. They ignored other details of a matryoshka's costume. Dog-rose with many petals is the main ele-ment of apron painting. This flower is always considered to be the symbol of femininity, love and motherhood.
This flower is a part of each composition of the craftsmen of Polkhovsky Maidan. Sometimes this theme is developed and a painter adds to the main rose its buds on the branches.
---
6. Matryoshka in Soviet time
History of matryoshka can be divided into tree periods: 1) 1890 –1930-s
2) 1930-s – beginning 1990s
3) Beginning of 1990-s till this time.
The first period gave us the first Russian matryoshka and developed a lot of new types which were put onto base of modern matryoshkas. Blossom of matryoshkas' types was interrupted by construction of socialism in the USSR. Why? The Soviet Government paid much attention to construction of factories, which produced goods of people crafts! Yes, this is right. The main problem is in it. Hand-made goods can not be made in factories – they are not mass production items. A few matryoshka's types were developed for factory production: Semionovo type, Sergiev Posad type, Kirov (Viatka) type and some other.
Private making of matryoshkas and production of other hand crafted things was forbidden in the USSR – craftsmen had to work at the factories where was no possibility neither to earn enough money for their labor (rates were quite low as at other state enterprises) nor to show their art abilities (goods had to be simple enough for mass production).
I remember a story of old crafter from Polkhovsky Maidan about work in Soviet time. Those who did not work at the factory were not allowed to use home lathes for turning, electricity was "cut down". Militia and representatives of power controlled road and railway stations to prevent possibility to carry to other regions of the country ready handicrafts to sell . Nevertheless people produced their own goods and brought them to different regions of the Soviet Union: Far East, North regions, South and Central Asia Republics.
It was easier to work at the factories of Semionovo where many new types of wooden toys were created. These toys (and matryoshkas among them) were exported to many countries of the world. In spite of that all things are too similar, they look like each other and they lack worm of hand made goods.
The same happened with Sergiev Posad matryoshkas. In 1920s the matryoshka makers artel "Artisan-Artist" was rename "The Workers' and Peasants' Red Army Artel" that in 1928 became toy factory #1. The period of free work has finished. Some simple types of dolls were produced at the factory. It is necessary to say that there were some people who created and painted original matryoshkas but it was not typical. Such matryoshka were bought by private collectors and now are quite rare.
In the beginning of 1990s when old economic system was destroying artists and talented artisans gained a freedom for creation of new type of matryoshkas and other crafts.
---
7. Other styles of matryoshkas
During the Soviet time many factories all over the country made nesting dolls. In time of planning economy when some wise guys from Gosplan (it would mean The State Planning Comity) decided that it would be nice to make as many matryoshkas as possible in order each person on the Earth could get his/her own matryoshkas That is why nesting dolls were made in Moldavia (South part of the USSR), in the Ukraine, in Caucuses republics (???), in Bashkiria, Karelia and many other places. Nobody was interested that it was impossible to bring together with tools and wood mastery of people and their skill. Without native traditions matroyshka lost its charm and became an ordinary wooden toy, very primitive and simple.
The only place where matryoshka found its new home was Kirov -the old city with deep root and traditions of wooden making. Now Kirov matryoshka has its own style and still is made at the factory.
8. Modern matryoshka nesting dolls
There is a wide variety of Russian nesting dolls which produced at present time. Beside traditional nesting dolls painted in Sergiev Posad style
こんにちは、私はロシアから私のMatrioshkasでポリーナフェルスタッペンと販売のキオスク(Matroesjkas)だと、孤児を支援するため、モスクワの2つのプロジェクトのためのロシアにおける活性部位のvaccationsを整理する。私のおもちゃ屋では、贈り物として、または子供のための装飾的な木のおもちゃのような理想的な、オリジナルの木製の人形を見つけることができます。我々はまた、直接、例えばあなたの友人とお祝いする誕生を人形を送信することができます。
カルーガ州の私達のキャンプ場へのエコツーリズム、モスクワから70kmには、そのすべてのコントラストと経験への州の広大な自然保護区とモスクワのメトロポリスを探索するのに理想的で安価な出発点です。我々はまた、ボランティアのための孤児の村でキャンプを整理する。ロシアにおける代替休暇としてあなたのために多分何か。

名前マトリョーシカ、またはマトリョーシカマトリョーシカはロシアから来ている。それは、名前は元々日本から来ていると言われている、と彼は実業家Savva Mamontov I.の妻によって19世紀末にはロシアにもたらされたこと日本の昔話によると、それは日本に彼を連れて来たロシアの修道士だった。しかし、何の話と、何にロシアのマトリョーシカの職人と話すのアイデア真の可能性があります。

"彼女は私たちのMatrjonaでそれらのようなOOoのもの、隣の女の子":セルゲイMalyutinは彼の友人に1890.Toenについての最初の人形の最初のスケッチを作ったというプロのアーティストは、この氏は示した。この女の子は非常に頻繁にMatrjoschkaまたはマトリョーシカと呼ばれていました。その瞬間からそのような人形はマトリョーシカと呼ばれる、または今もマトリョーシカされています。

尊敬される女性は19世紀の終わりに名前Matrjonaで、(とMatreshka二次、マトリョーシカ、Matrjoschka、マトリョーシカロシアで最も人気のある名前の一つ。名前はラテン語から来ている"Matrona"、どのような母が行う、または"家族の"か"母"。この名前は偉大で一緒に積み重ね人形のアイデアを非常にうまく適合する理由を"お母さん-ポップ"。別の数字を配置するには豊饒のシンボルとして知られており、今まで見た中とある意味でそのような子どもたちの組織の孤児としての母体ケアの象徴であり、マリアとオリオン(Kitizshは)自分のケア、ケアと教育を受けた。

最近までそれがどのように行うには秘密だったのでマトリョーシカは、人々が無駄な時間と材料がたくさんあったようにしようではない、それは、驚きではない。それらを作成する作業は、才能とスキルを必要と最初は右の利用可能な木材の種類あなたにとって重要です。リンデは、理想的にこれらの人形、道路の柔らかさに適していますが、それはあまりバーチとアルダーが使用されます。

菩提樹は、地球上で最古の樹木の一つです。千年以上昔の既知のインスタンスがあります。 (ドイツ)。オランダでは500年と700年のベルギーでの方法が、あります。セキュリティと成長のシンボルは、古くからこの木は、魔法の魅力を持っています。不滅の木は、自身がそれにはより多くの蜜を持たないようなにおい美しい香りの花を持っています。これはなぜ時々ライムツリーの下に横たわっている死んだ蜂の多くを説明しています。花にはより多くの蜜ですが存在しないため、彼らは食べ物を見つけることができるよりも蜜の検索では、彼らはより多くのエネルギーを使用してください。疲れ、彼らが倒れたりして。

菩提樹は、ケルト人の間でしたし、ドイツ人は神木を考慮。女神フレイヤにはに落ち着くだろう。石灰の精神は、家屋、井戸と教会の保護者だった。後で、"良い木"とみなさとしてライムの木。結婚は石灰で締結、愛好家の親指は、樹皮に押された。 lindetakはまた子供の歯痛の治療薬として役立つだろうと、それは、魔女と幽霊に対する保護として使用されて、お守りの形を取っていました。

ライムツリーはしばしば歌われている:ヴィルヘルムミュラーと歌ダイツヴァイ眼球blauenでグスタフマーラー歌曲eines fahrenden Gesellenでテキスト上で冬の旅からシューベルトデアLindenbaumに、例えば。ライムツリーは、しばしば(過去の)愛を指します。さらに最近では(2004分の2003で)モルドバグループO - Zoneのの男を歌った"Dragostea DIN TEI"ヒット夏の菩提樹は、"菩提樹の木の下で愛。"

ライムの木が頻繁に記念の木として植えられている。このように、オランダの国家林業市町村の石灰王の妃アマリアの誕生を祝うために提供される。オランダの480市町村の260で、このナショナルホリデーツリーが植えられて。

たくさんの時それが乾燥クラックする木材を介してそこに残っているものの、木は、春先に収穫され、その樹皮を剥奪されています。ログは、空気乾燥で積層し、数年されています。木材(カット)の処理は、木材が乾燥し過ぎたり、あまりにもウェットではない場合、適切なタイミングで正確でなければなりません。唯一の専門家はその点を決定することができます。木材の各部分は、少なくとも15種類の操作になります。

最小のマトリョーシカ、離れて撮影することはできませんこれは、通常、初めに行われる。何を測定していない多くの経験を持つマイスターが、彼の技術に完全に依存しています。それから彼はマトリョーシカ少し大きくして進みます。

別のマトリョーシカの数は2から60に変えることができます。最大のマトリョーシカは、そのメーカーと同じくらい大きくなることがあります。それぞれのマトリョーシカが行われれば、それはすべての不正を満たす糊のようなペースト、に浸したなる。最終乾燥は、現在の木材をサンディングしてから、芸術家に殺され続けることができる以下ように、採用されている。今マトリョーシカその最終的な外観とスタイル。
人々が彼らの年齢と変更、同じことが私について言うことができる。

マトリョーシカの中のアートは、徐々に他の町や村にモスクワの地域で拡大し始めたされています。そして各サイトが独自のスタイルと装飾の種類を開発した。

Sikorskijという名前のアーティストがそのマトリョーシカの一般市民の間で非常に人気がある彼の手の完全なセットは、現在約3000ユーロですした最初のアーティストの間でした。

オランダの人々はしばしばそれらまたはBabuschka Baboesjka呼ぶが、それは"祖母"のためのロシア語の単語です。彼らは多くの場合にもマトリョーシカ、Matruschka(Matrushka)、Matrjuschka(マトリョーシカ)、Matrena、Matreschka(Matreshka)または単に呼ばれる"ロシア人形"です。元ロシアの名Matrjoschkaは、成長、持続可能性、愛とセキュリティを象徴しています。
 
마트료시카(러시아어: Матрёшка)는 나무로 만든 러시아의 인형이다. "마트료시카"는 러시아어 여자 이름 "마트료나"(Матрёна)의 애칭이다.
몸체 속에는 조금 작은 인형이 들어가 있으며 몇 회를 반복하는 상자 구조로 되어 있지만, 여섯 개 이상인 경우가 많다. 각각의 인형은 여성이 그려져 있는 것이 기본이지만 대통령 등 유명인이 그려진 변형도 있다.
러시아에서 처음 만들어진 것은 1890년으로 알려져 있는데, 일본에서 나온 기념품에서 착안하였다고 한다. 1900년에 러시아 각지에서 여러가지 마트료시카가 만들어지게 되면서 러시아의 민속 공예품과 선물로 알려지게 되었다.
[편집]
같이 보기